Shopping Cart
Your Cart is Empty
Thank you for your business!
You should be receiving an order confirmation from Paypal shortly.
Exit Shopping Cart
Steps to Becoming a Member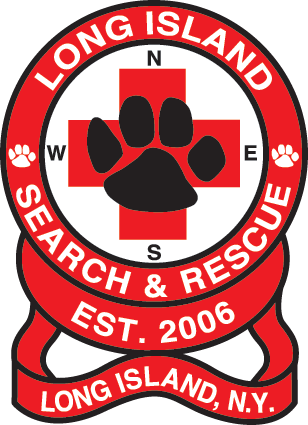 Thank you for your interest in training and working with Long Island K9 Search and Rescue(lik9sar). The following information describes the steps it takes to become a search team with lik9sar.
If you have any questions, or have an interest in becoming a part of lik9sar, please feel free to contact us or fill out a pre-app and one of our members will get back to you.
I. The first step in becoming a search team with lik9sar is your initial interest, and participation in 1 general meetings & 1 training session.
II. The second step is applying to become a probationary member with lik9sar. This period provides the team a better understanding of the requirements and commitment needed to become a search and rescue dog team. It also allows lik9sar members a chance to work with and get to know the dog/handler team.
The Probationary Member receives the privilege to use the lik9sar yahoo group to get information on training locations and times.

After a minimum of 6 months a dog/handler team may come off of probation as long as all of the member minimum requirements have been met.
Requirements for dog/handler teams applying for Propationary Membership:
Handler's minimum age of 18 years.
Dog's minimum age of 4 months.
Completed application and statement of purpose.
Veterinary certification of vaccines.
Dues
Probationary Members are required to attend at least 50% of the general meetings and at least 60% of training sessions (subject to number of training sessions held).
The handler is expected to complete the following requirements in preparation for certification and testing:
Obtain Wilderness First Aid certification or equivalent.

Obtain current CPR card.

Map and compass orientation.

Outdoor survival skills.

Prepare for a written and field test on search strategy(sar-tech II test).

Demonstrate physical fitness and endurance needed for the rigors long term search and rescue work.
The dog must:
Demonstrate sound temperament.

Show no aggressiveness towards people or other dogs.

Demonstrate good physical fitness and endurance.

Demonstrate C.D. (Companion Dog) level obedience. Testing includes:
heeling off lead, including a figure 8

non-verbal off-lead recall up to 50 feet

1 minute off-lead sit stay

3 minute off-lead down stay

"leave it" command
/